Project dates
03/2014 – 07/2014
Project summary
Develop UI and physical design prototypes as a proof of concept for a low cost wearable device (99 USD price point).
Value proposition
Competitor research and customer feedback exposed an opportunity to develop a wearable device that had a long battery life and low price tag. A display technology we chose that met both these requirements was e-ink. At the time wearables were beginning to flood the market with dubious or limited use cases, our aim was to create something that really complimented everyday scenarios.
A number of principles were fleshed out to come up with meaningful interactions and the 'Glance & Go Companion' strapline was developed.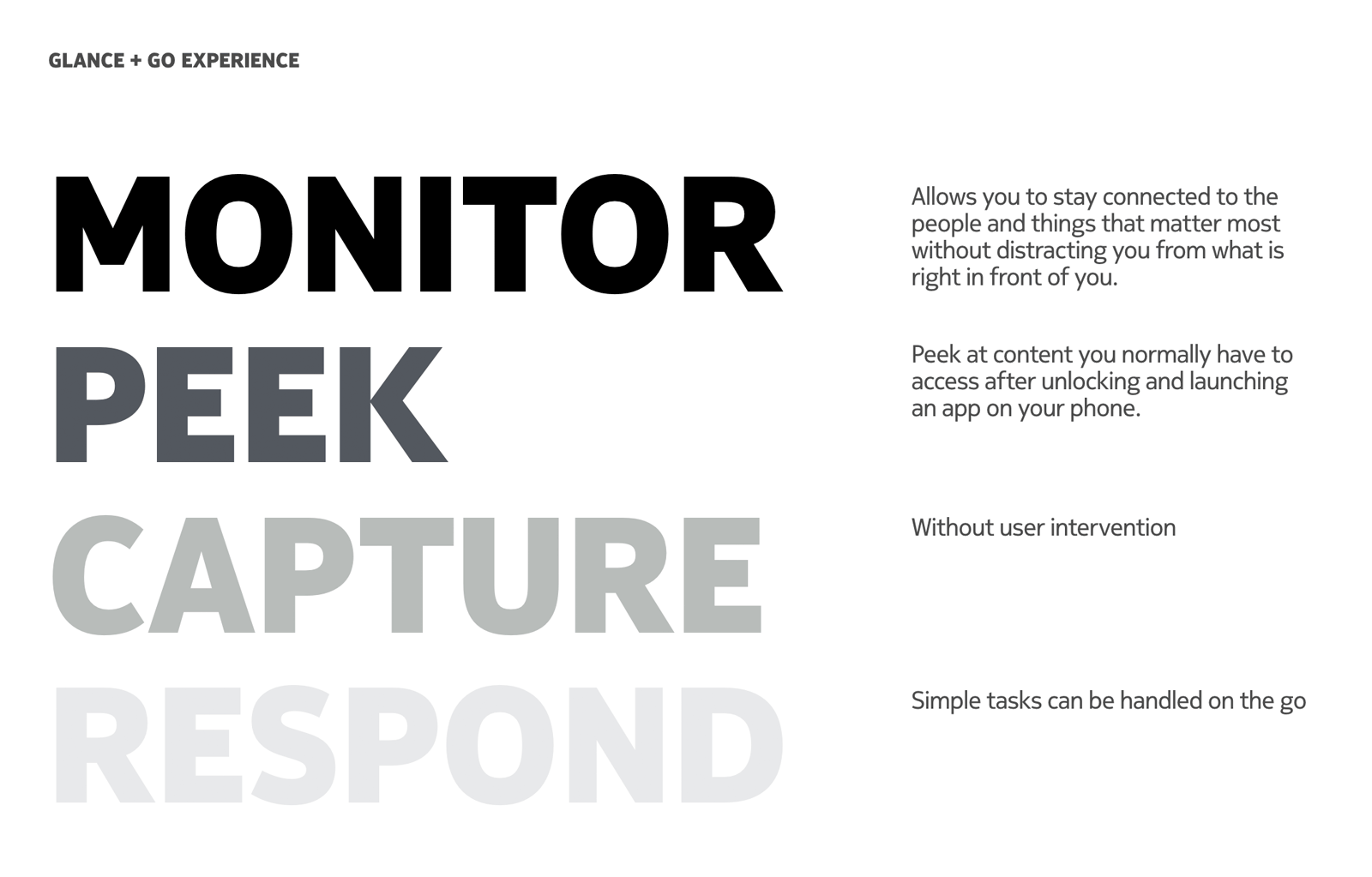 Customer experience goals
It's smarter, it takes care of things for me. I can stay focussed "In the present moment".

It's delightful and sometimes it surprises me how effortless it is. It "just works".
Features
Notifications: messaging, calendar reminders, calls
Proximity: phone & devices unlocked
Alarm: snooze or dismiss
Personal Assistant: quiet hours/do not disturb,
Maps: location based reminders, turn by turn directions
Wallet: Contactless payments
Use cases
Tap or use your voice to silence an alarm

Pay for coffee or public transport (pre the capabilities of Apple Watch).

Receive a notification that a meeting is about to start in 15 mins.

Entering the meeting your tablet is already unlocked by proximity.

Entering the meeting your availability changes to do not disturb. You finish 15 mins earlier and you manually revert back to available.

Late in the afternoon you get a notification that the tube is closed and that you should take the bus.

You go to the gym to exercise, the heart rate monitor tells you how to keep the perfect pace, and the sensors record how much you trained.

You take the bus and review your data on the phone. Cortana prepares next workout.

You use maps to look for a new store. You walk there using turn by turn navigation, and then you go home.

Getting ready to go to bed, you check if you setup the alarm for tomorrow morning.
Industrial design concept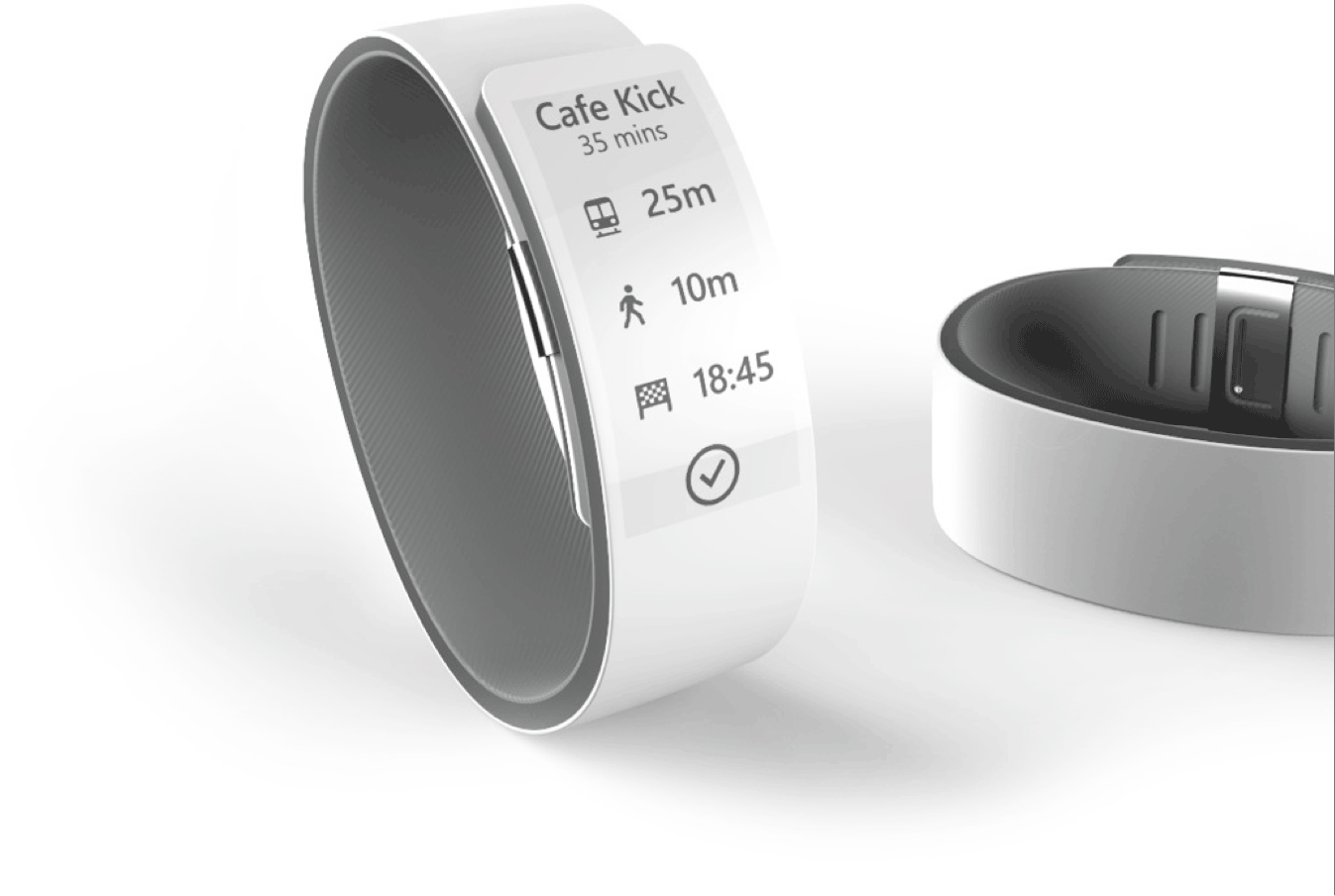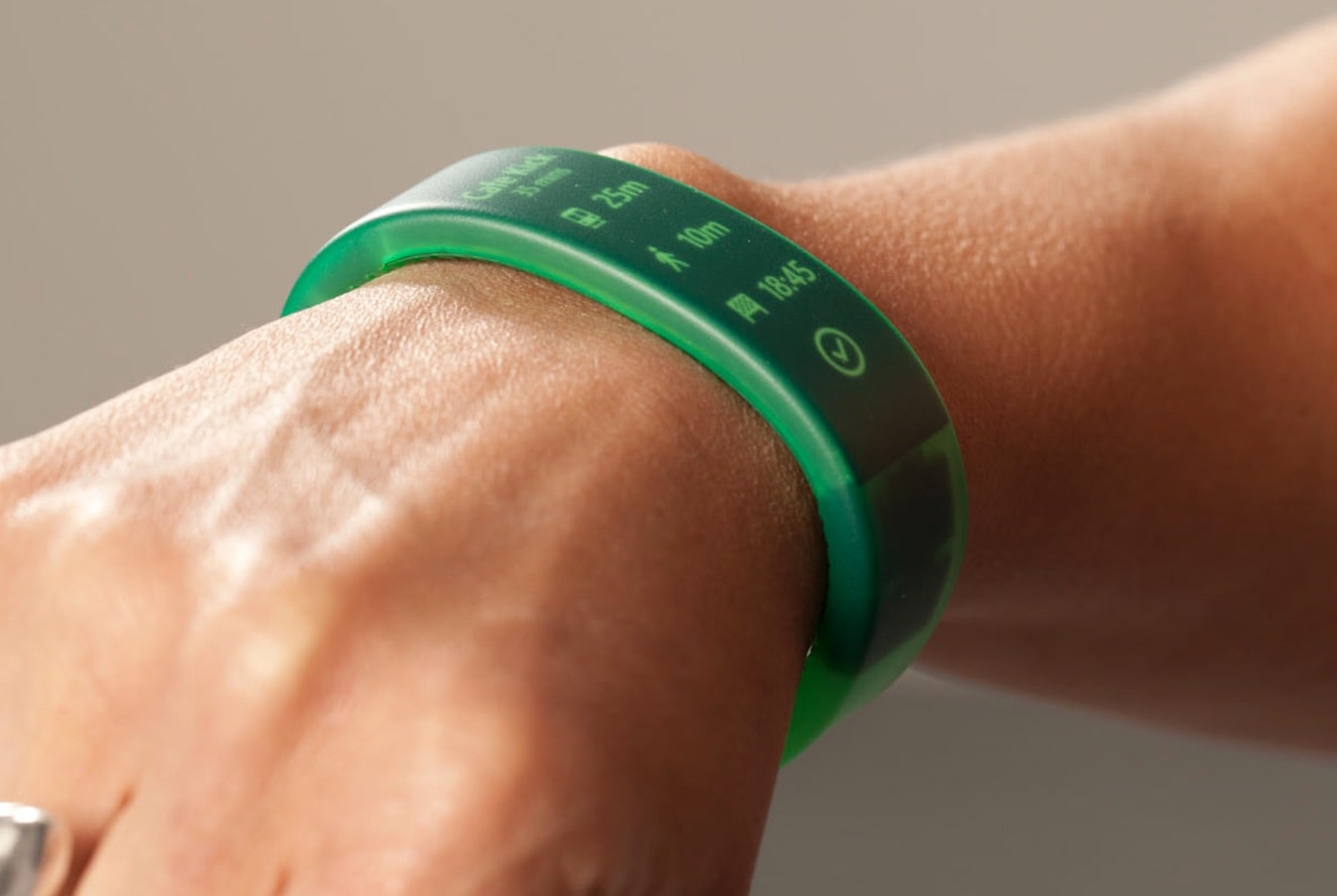 The value proposition, Interaction and Industrial Designs we developed were very well received. However the experience we wanted to deliver was too heavily compromised due to the poor refresh rates (response times) of eink technology at the time.